Trattoria Dardano's cooking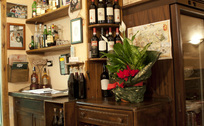 At Trattoria Dardano you can taste all the typical Tuscan specialities such as the famous "Crostini neri" (black toasts) with chicken liver or the Salami of our own production and the characteristic first courses such as "Ribollita", "Pici alla Contadina", "Ravioli al Tartufo", "Gnocchi al Pesto", ali made with fresh pasta. As far the second courses you can taste the roast meats such as Chicken, Rabbit, Duckand Guinea Hen, all tram the Trattoria's farm, like the delicious grilled lamb. The purely "Chianina" veal's meat and the pork both come tram our countryside. "Dulcis in fundo" there are our home made desserts or the Cantucci cookies to be tasted with the sweet Vinsanto. The gastronomic specialities that are offered to you by the Castelli family are all to be tasted with the awesome red and white wines that you can choose tram a very good and wide range.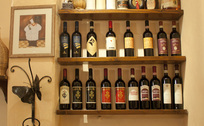 The Castelli family, in order to offer to clients high quality products, has been breeding far years chickens, rabbits, ducks, guinea hens and lambs; veal and pork are bought exclusively form local butchers so that the meats are always tram the Valdichiana.
During winter time you can also try the very good dishes of game that Mr Castelli hunts especially far the Trattoria.In the family farm there are more than 1000 olive trees tram which the full-bodied olive oil is produced.
Our menu
Appetizers
Antipasto Toscano
Bruschette al pomodoro
Affettati misti
Prosciutto e melone
Sformato di verdure
First courses
Pappardelle al Cinghiale
Ravioli al Tartufo
Ribollita
Pici all'anatra
Ravioli burro e salvia
Tagliatelle ai porcini
Second courses
Bistecca Fiorentina
Filetto di maiale ai porcini
Braciola di maiale
Tagliata al rosmarino
Pollo arrosto
Agnello scottadito
Porcini Fritti
Salsicce e Fagioli
Scaloppina al limone
Desserts
Cantucci con Vin Santo
Tiramisù
Panna cotta
Crema Catalana
Budino al cioccolato