Typical trattoria in Cortona
Located in the old town centre of Cortona, Trattoria Dardano offers guests the opportunity to taste typical Tuscan dishes including the "crostini neri", the "ribollita", the "pici" and, of course, the world-famous "Fiorentina steak"; all accompanied by excellent local wines. Having a meal at Trattoria Dardano means appreciating the genuine products of the Cortonese lands and rediscovering the country Tuscan cuisine, at times simple but always tasty and delicious.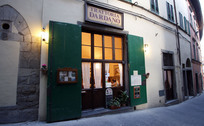 The Castelli family, in order to offer to clients high quality products, has been breeding far years chickens, rabbits, ducks, guinea hens and lambs; veal and pork are bought exclusively form local butchers so that the meats are always tram the Valdichiana. During winter time you can also try the very good dishes of game that Mr Castelli hunts especially far the Trattoria.