Trattoria run by the Castelli family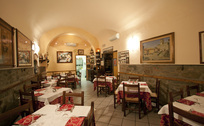 Located in the middle of the historic centre ( in the street that leads to the central Piazza della Repubblica) the Trattoria overlooks Via Dardano, the street named after he who, according to Virgil, was the founder of Cortona and this is why also the Trattoria is named after him. The restaurant opens into two inviting rooms where the old medieval walls of the building that shelters them are still very visible. The particular thing that you will notice as you enter the first room is that you can see directly what's going on in the kitchen which is open to clients interested in viewing the making and cooking of the various dishes. The second room is smaller but even cosier, reserved and finished with wooden ceiling.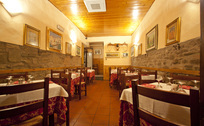 Also, in the very hot summer days, the Trattoria has air conditioning on far the clients that are not used to our weather. In this warm and familiar place you will meet the specialities of the traditional Tuscan cuisine accurately made with first quality ingredients. Having a meal at Trattoria Dardano means appreciating the genuine products of the Cortonese lands and rediscovering the country Tuscan cuisine, at times simple but always tasty and delicious.
Virtual Tour