Trattoria in Cortona since 1980…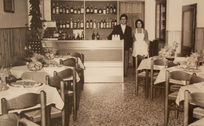 Trattoria Dardano was opened in March 1980 and always owned by the Castelli family, it has kept alive the culinary traditions of the typical Tuscan cuisine.
All the members of the family are still working there and this particular makes guests feel at home, because of the inviting and familiar atmosphere that the Trattoria offers.
Here you will be able to try all the tastes, flavours and smells of our lands thanks to the genuine ingredients coming from the Cortonese countryside and accurately selected.
Every meat or vegetable in the Trattoria is highly genuine and mostly followed in its breeding and growing by the Castelli family itself.